Thursday, March
21
Gold, Silver or Bronze For Plastic and Reconstructive Surgery?
Private Health Insurance Changes - What You Need To Know About Cover For Plastic Surgery Procedures?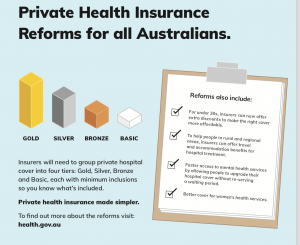 There are big changes just around the corner for Australian private health insurance (PHI) with the purpose of simplifying policies and comparing levels of cover. I'm not sure these changes have achieved their purpose as health care is a complex beast and simplifying is near impossible!!
So here's what you need to know if you're considering having plastic and reconstructive surgery in the future. Information is a moving feast and seems to change quickly and by next week this might be old but here goes!
Government health insurance reforms will introduce 4 new tiers or levels of cover for 38 different clinical categories commencing from 1st April 2019. Health funds have until April 2020 to change to the new system. These new tiers will apply to hospital cover only, not extras, although changes are afoot for extras cover so please do check with your individual health fund.
Plastic and Reconstructive Surgery is one of 38 clinical categories and procedures which fall under this clinical category will need at minimum silver cover according to the information currently available. Plastic surgeons perform a wide range of surgery including medically necessary breast surgery (which is currently under the bronze category), skin cancer excision surgery (bronze) and weight loss surgery (gold). Selecting the best cover can be complicated especially if your plastic surgery procedure fall across more than 1 tier level. For example someone who is having a melanoma excised under bronze may also need silver tier to have the defect area repaired by a plastic surgeon.
When will the PHI changes take effect?
Health funds will start to introduce changes from 1 April 2019 with a deadline for all health funds to be using the new system by 1 April 2020 at the latest.
What are the new tiers or levels of PHI and which plastic surgery procedures are covered?
Basic cover
Essentially the hospital cover you need only what to avoid a bill from the tax department!!
Bronze cover
This tier covers any medically necessary procedures like but not limited to:
Skin cancer and skin lesion excisions that do not require complex wound closures or repairs such as special skin grafts or flaps
Medically necessary breast reduction
Medically necessary breast lift or mastopexy
Medically necessary correction of tuberous breast deformity
Medically necessary correction of breast asymmetry
Male Gynaecomastia
Breast reconstruction after mastectomy with tissue expanders and breast implants
Lattismus Dorsi flap repair for breast reconstruction
Silver hospital cover
Many types of general plastic and reconstructive surgery procedures used to repair areas of defect after skin cancer removal or burns such as skin grafts and flap repairs
TRAM flap breast reconstruction after mastectomy
Medically necessary upper eyelid reduction or blepharoplasty with confirmed visual field impairment
Otoplasty for prominent ears for patients under 18 years of age
Scar Revision procedures
Gold hospital cover
Gold tiered cover is for surgery that is designed to reduce a person's weight, remove excess skin due to weight loss and reversal of a bariatric procedure. Examples include:
Abdominoplasty,
Arm lift or Brachioplasty and
Thigh lift
Gastric banding
Gastric bypass
Sleeve gastrectomy
If you are in need this kind of surgery in the near future it may be worth having a Gold tier policy and then downgrading once your surgery is completed!
How can I find out when my policy will change?
Contact your health fund for direct advice about your own policy and make sure you take a reference number, time and date of your call as you may have to rely on this advice in the short term. Health funds are currently sending out letters informing members about the coming changes and what will happen to their policy. Choice has provided a convenient infographic to guide you through the 'essential parts of your health fund letter' to understand key information about your policy moving forward.

Infographic Choice: https://www.choice.com.au/money/insurance/health/articles/health-insurance-reforms-what-you-need-to-do
Key questions for your PHI
Has my premium changed?
Has my level of cover changed?
What are my new excess options?
What can I do to save money e.g options for higher excess to save on premiums, discounts for under 30s, prepaying my annual PHI in advance?
TIP
For patients with specific health care needs in the near future, ask your GP or contact our friendly team to see which medicare item codes fall into the different tiers of cover and then clarify with your PHI to see if your new tier i.e. gold, silver or bronze will cover this need.
Learn more about Private Health Insurance changes?
The department of health has some simple materials to explain these changes you can access the materials here.
Choice has some great consumer information for a more detailed look at the different hospital tiers and what they cover! Once you have your letter from your PHI you may need to make some changes but before you do anything read more from choice as it may help you make informed decisions about your PHI.
Dr Eddie Cheng is a board certified Specialist Plastic Surgeon in Brisbane, Australia. Socialise with us @arplasticsurgery to learn more about Dr Eddie Cheng and our Team. This information was compiled based on information produced by The Department of Health and Choice.